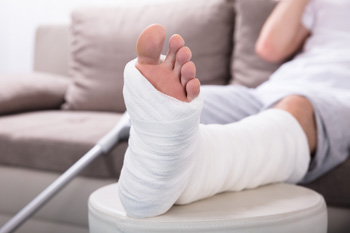 Broken ankles are usually caused by the ankle turning, twisting, or rolling while walking, running, or participating in sports. An ankle can also break from repetitive stress (stress fracture) or high-impact trauma to the ankle, like a fall or an auto accident (traumatic ankle fracture). Some ankle fractures can occur where bones break but remain in correct alignment, while in other instances, portions of the bone become separated or misaligned. Pain and swelling will typically occur in the ankle area and parts of the foot, and might radiate up to the knee. Putting weight on the affected ankle can make all symptoms worse. Different types of fractures require different treatment based on alignment and stability of the ankle. X-rays, a CT scan or an MRI may be needed to determine the extent of the injury. Seeing a podiatrist will help determine which type of fracture has been sustained and the proper course of treatment to help preserve the ankle joint for life.
Broken ankles need immediate treatment. If you are seeking treatment, contact Edwin Oghoorian, DPM from Pacific Foot & Ankle Associates . Our doctor can provide the care you need to keep you pain-free and on your feet.
Broken Ankles
A broken ankle is experienced when a person fractures their tibia or fibula in the lower leg and ankle area. Both of these bones are attached at the bottom of the leg and combine to form what we know to be our ankle.
When a physician is referring to a break of the ankle, he or she is usually referring to a break in the area where the tibia and fibula are joined to create our ankle joint. Ankles are more prone to fractures because the ankle is an area that suffers a lot of pressure and stress. There are some obvious signs when a person experiences a fractured ankle, and the following symptoms may be present.
Symptoms of a Fractured Ankle
Excessive pain when the area is touched or when any pressure is placed on the ankle
Swelling around the area
Bruising of the area
Area appears to be deformed
If you suspect an ankle fracture, it is recommended to seek treatment as soon as possible. The sooner you have your podiatrist diagnose the fracture, the quicker you'll be on the way towards recovery.
If you have any questions, please feel free to contact our office located in San Dimas, CA . We offer the newest diagnostic and treatment technologies for all your foot care needs.
Read more about All About Broken Ankle